There are countless ways how you can get more TikTok followers, yet it is not common to have all of them in one place.
We have included 50 ways to increase the number of followers in this blog post – from very broad and generic like adding a trending sound or song to listing popular hashtags, creator tools, and describing how the TikTok algorithm works.
The methods listed here will cover how to get followers for free by optimizing videos, using free TikTok generators, and "follow for follow" techniques. Also, you will learn if you can buy TikTok followers safely without being blacklisted by the algorithm or providing your password.
If you are looking for 2022 to jumpstart you to new heights on TikTok, this could be the only guide you will need to keep the number of followers growing.
Our methods are in no particular order so you can choose whatever looks worth experimenting with. Let's start counting from the fastest and easiest ways to more advanced ones that require a curious mindset. Assuming you are, every method could be ground-breaking.
Common Shortcuts to Get More TikTok Followers
#1 Growth agencies for TikTokers
There are many marketing agencies for TikTok influencers who will not only automate uploads but help you grow followers. Some of them are known to pay TikTok users from less developed countries to follow a creator and have hundreds of thousands of people as contractors.
While growth agencies are one of the best ways to get more TikTok followers, oftentimes it is the most expensive and tricky. Because the users are paid only once when they follow or like someone, they are likely to unfollow as soon as the payment is received.
#2 Try TikTok Ads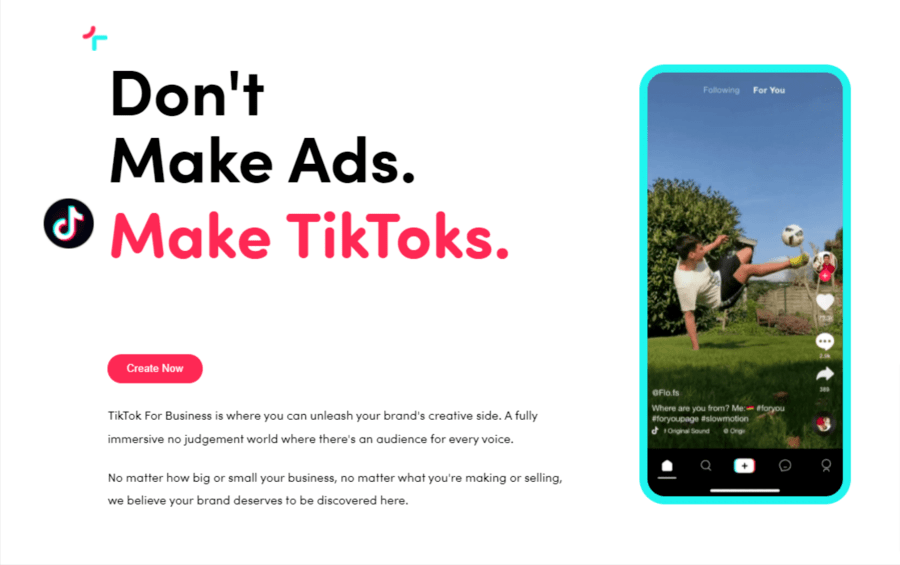 The help right from the platform itself – TikTok Ads are specifically designed for creators with few followers and little engagement, to whom it is harder to get on the front page of TikTok.
The Ads Manager allows you to target users from select countries, cities, and get insight reports. The app allows you to choose between in-Feed ads, full screen, and TopView ads, as well as hashtag challenges under the Discover tab. This method is commonly used by brands to get more TikTok followers quickly.
On the downside, no matter the type of ad, the minimum price could be as high as $10 000 – $25 000 a day.
#3 Buy TikTok followers
Out of many options to grow fast, buying followers for a TikTok profile is one of the cheapest, requiring less initial budget than growth agencies or ads. Many creators buy followers initially to unlock the Live recording option and let viewers know other users are following them.
Yet, just as with everything else, purchasing 20k followers at once may result in account suspension or ban, and therefore, put accounts at risk. It is also important that you never provide an account password to avoid being locked out of it. If you want to شراء متابعي TikTok but don't know how to get started, FeedPixel assigns an agent to answer all your existing questions.
#4 Free TikTok generators and bots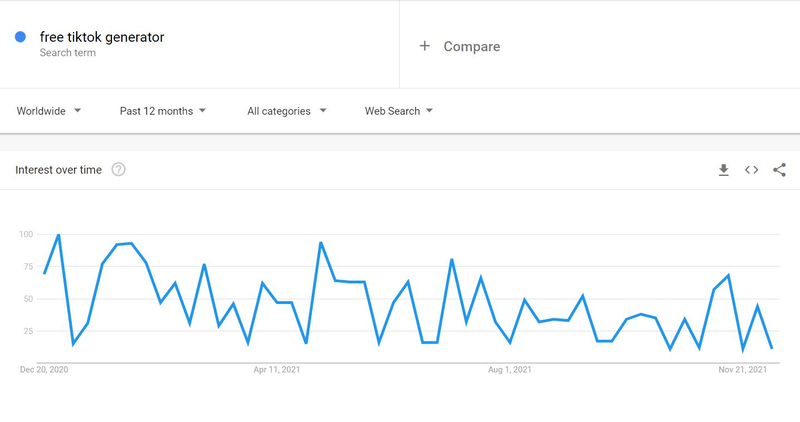 As the number of TikTok agencies grows, so do TikTok generators, websites, and in-built systems promising followers for free. In reality, what happens is that fake profiles are created by bots and sent to the creator's account upon completion of certain tasks.
Such tasks may include answering a survey, installing an app, or playing a mobile game for a couple of minutes. For these interactions, a website owner receives a fee from an advertiser and sends a few bots to follow you on TikTok.
These bot practices are not only useless but may cause account suspension if the algorithm discovers unusual activity on your side. This is not the best way to get more TikTok followers but is still a common one according to the number of people searching for follower generators.
#5 Free follower apps
Much like TikTok follower generators, free follower apps are known to operate the same way. They first ask a user to register and follow a certain number of accounts, watch an ad or install another app on their device.
A great number of such apps are available on both Google Play and App Store. That said, according to reviews, many of them did not deliver despite the completion of tasks, and some stopped working completely.
Thus, it is a good idea to check the reviews and the dates of the release, and the last update before installing an app on your device. After all, your goal is to get more TikTok followers and not get scammed.
#6 Limited followers with free trial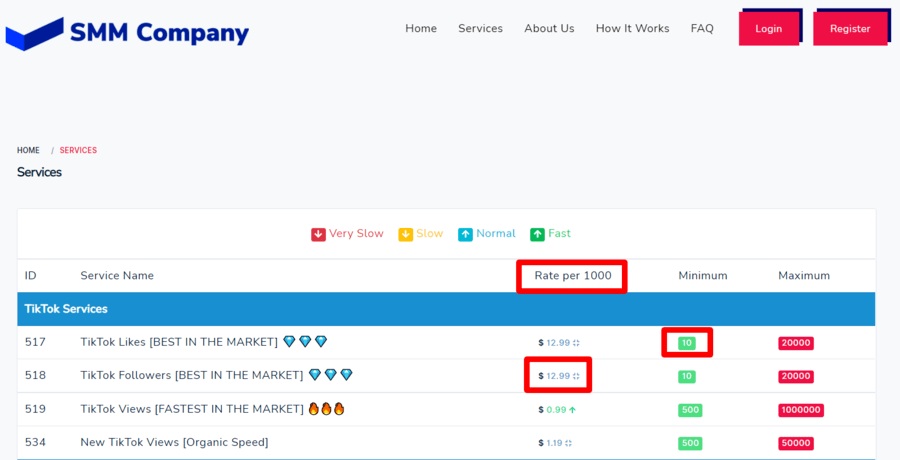 Yet another attractive option for those looking to get more TikTok followers fast. Approximately one out of every 6-8 social media services would offer a free trial. Sometimes you will be asked to add your billing details so that once the trial is over you will be charged automatically.
This method allows a user to test the quality of followers without spending a cent. The only minus is that the number of followers you receive is typically too low to get a surge in TikTok visibility and rankings, and then again sometimes there are quality issues.
Our sister website, SMM Company has a free trial bonus of $2 added to new users' wallets which allows them to get up to 150 TikTok fans for free.
#7 Follow for follow
A well-known and common tactic is when you follow 10-20-50 profiles a day asking, or simply waiting for them to follow you back. TikTok is not the only platform where a hashtag #follow4follow exists, as it is also common among Instagram and other social media users.
The downside of using the follow-for-follow method to get more TikTok followers is that many of those who follow you back will use the same technique and will soon unfollow you.
📌 Read our recent post answering the question if follow for follow on TikTok still works.
#8 Followers to following ratio
What is your followers-to-following ratio on TikTok, and does it actually matter?
It is natural for creators to get curious if the number of followers they have must correlate with the number of accounts they follow.
On Instagram, for example, the average accounts would have twice as many followers as they follow (ratio 2:1), and creators above average have managed to get at least 5 followers for every account they are following (ratio 5:1). These numbers could be even more dramatic as TikTok is a viral platform with record-high downloads, content creation, and user engagement.
Below is the table with the least, most, and average followers/following ratio.
#9 Get more views first
If you are wondering how to get more TikTok followers, start with getting views first. The growing number of video views even without subscribing signifies a healthy overall growth. Better yet, get on TikTok's front page, known as the For You page.
This could immediately guarantee you thousands of views, which is important to start gaining more followers. Also, there are views to followers ratio on TikTok of at least 10:1. Ideally, there should be more than 10 views per single follower. Simply put, if you have 100 followers, you should have at least 1 000 views on a video.
#10 Like for like to get more followers
Just like the follow for follow, like for like is a common technique to reach out to other creators and let them know that for every video they like you do the same for them.
There are quite a few apps offering cross liking. Upon registration, you start browsing accounts within your niche or geolocation and liking the videos, and your account gets suggested to them. Another way to promote like for like is by adding the same hashtag on every video you upload.
#11 Comment for comment?
Perhaps, the most controversial is the comment for comment technique. Not every blog post mentions it as a way to get more TikTok followers, right?
On the one hand, you are commenting on someone's video in hope that the user does the same to you. The reason why we suggest that comment for comment is going to work is simple. It takes more than a simple tap of a finger and is usually appreciated more by any creator. The least you will earn a comment or a view back, but sometimes a follow.
#12 Get the minimum number of followers
To unlock your full creative potential, to go Live on TikTok, and earn audience credibility you need what we call the minimum number of followers. That is not a standard number of 100, 1000, or 5000 followers as it depends on how famous you are.
Generally, 1000 followers on TikTok is one of the requirements to go Live. That said, if you are a fashion icon, a local celebrity, or a YouTuber, your minimum number of followers is different.
As an example, the minimum number of followers when a creator becomes a nano influencer on Instagram is between 10k and 50k. Now imagine a popular Hollywood star Angelina Jolie hitting 10k. Would it be a minimum for her?
No surprise, she gained 4 million followers the first day she officially joined Instagram. We assume the same rules apply to any social media platform, and your job is to figure out what your minimum is once the 1000 followers mark has been reached.
Analytics and Insights for Growing Followers Count
#13 Get a TikTok Pro account
Okay, this is a rather indirect way to get more TikTok followers, but the one which lets you make important decisions.
From the outside, a TikTok Pro account is no different than a regular account except for it allows adding a clickable link in your bio.
From the inside, the Pro account has in-build advanced Analytics which gathers important data on profile followers and viewers engagement, on the likes and followers growth, etc., and costs, not a cent!
We have a whole article dedicated to switching to a TikTok Pro account with step-by-step guidance. Check it if you are ready to crunch some numbers.
#14 Know your viewers' geography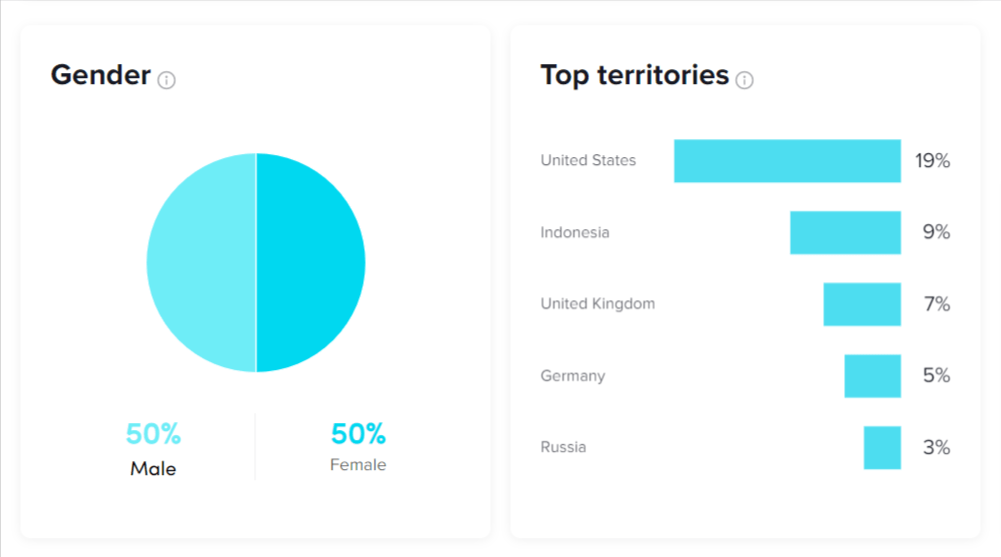 We bet you only know that 90% of all views come from your country of residence. That is true as the algorithm is wired to first serve videos by location and even when placed on the For You page. Yet as the algorithm develops and learns what videos you like most and what language you prefer, the content is likely to blend in geographies.
You can get the audience insights, including geographical data, by switching to a TikTok Pro account (if you haven't already done so). There inside your Analytics dashboard, you will see followers data which gives you important insights on how to get more TikTok followers.
#15 Best time to post on TikTok
Much like on any other social media platform when your content is live is as important as what it is about.
Yet unlike the Instagram app, for example, the best time to post on TikTok varies from 2 AM to 11 AM in the morning and from 1 PM till 11 PM in the evening.
In other words, because TikTok has a much higher engagement rate than say, Instagram, and the average user accesses the app multiple times a day, the best time to post is sketched.
The best time to upload a TikTok video also depends on the day of the week, as on Tuesdays users are likely to interact only in the morning, reaching its peak at 9 AM, and much less in the evening or during a lunchtime break.
If you need more detailed information you can read our blog post on the best time to upload to TikTok.
#16 What's Trending on TikTok
As for statistics, out of 66% of TikTok users who watch someone else's videos, 55% upload their own videos. As a frequent user of the TikTok app, we assume you have already guessed what's trending and how it can help you get more TikTok followers.
This may be a specific effect, a new filter, a sponsored hashtag challenge, or anything else that everyone is experimenting with. If you are unsure how this contributes to the growing number of followers on your profile, think of users like you consuming whatever is popping up on the For You page.
Meme videos, fan communities, and dance challenges – all that is the foundation to creating viral content and getting more TikTok followers.
#17 What songs are your fans' favorites?
Music is not only fun to listen to but it also unites people. Analyzing what videos perform best for your audience also involves sounds and songs. Even though you probably used only trending and popular sounds, you should see that viewers prefer one over the other from the number of views it receives.
Though this may well depend on how popular the song is. As videos with Megan Thee Stallion's original song "Savage" known as #savagechallenge on TikTok have received 1.5 billion views. In comparison, the song Laxed #laxedsirenbeat has around 280 million views. This may be about the views and not how to get more TikTok followers, but you've got the point.
#18 The WOW captions formula
We bet you think some random caption like "me relaxing" or 'just chilling' would help you get more TikTok followers and likes. If you are trying the third time in a row but see no difference, we suggest you try a different approach without forgetting to watch the Analytics.
Good captions are not only relevant but emotional with emojis and some words IN CAPS. You should also include a closely matching hashtag or two, which could be location or city, for example. Almost every TikToker tries to do #FYP hashtag which does not mean the algorithm would place your video on its front page right away.
Also, keep in mind that although the character limit is 150, the users are likely to see the first 100 or less. Thus, placing the most interesting part, in the beginning, is key to engagement and followers.
#19 Seriously, how long is your video?
As for its most recent update in July 2021, TikTok has allowed creators to upload videos of up to 3 minutes long. It first allowed 60-second videos, which are now three times that.
It is logical to assume that the longer a video is the better engagement and following it generates. After all, there is more content to properly express yourself and evoke a reaction in a viewer. However, research shows that because of the specific fast-paced culture of the app, videos between 16 and 25 seconds perform better than those up to 3 minutes.
Therefore, the ideal length for a TikTok video to get more interactions and views is between 16 and 25 seconds. This is also true for increasing the number of followers.
Optimizing Videos for the TikTok Algorithm
#20 Research the TikTok algorithm
It is one of the most elusive suggestions to make, but knowing how the algorithm behind TikTok promotion works will add clarity to what you do first. While the WOW captions we mentioned above will attract potential viewers, this only is useful when they see it, right?
Unless the algorithm suggests your videos to users, there is no worth in great captions. The first thing you need to know when uploading content is that geographic location is one of the factors influencing the algorithm suggestions. For good reason, more influencers are now tagging the places and cities they have been to as this helps the algorithm pitch it to the right audience which could get more TikTok followers.
📌 Do you want to learn more about how videos are processed by the TikTok algorithm once released? Read FeedPixel's blog post on How TikTok Algorithm Works.
#21 Popular sounds and songs
Did you know that the algorithm on TikTok first promotes videos that have trending sounds and songs?
Looking into statistics, it is easy to see why, as much as 88% of users may automatically swipe up if the video sound is unpleasant.
This particularly is true for brands running TikTok Ads as users are more likely to stop swiping and watch a video with catchy tunes.
#22 Trending hashtags for more views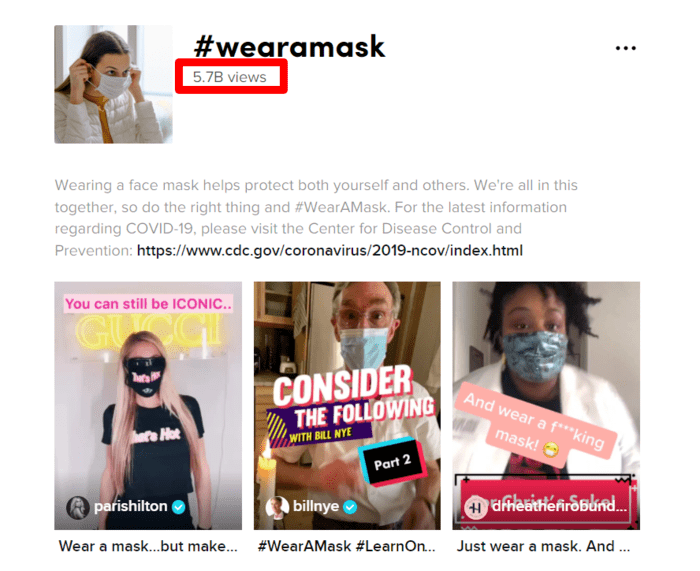 Finally, to get more TikTok followers fast you have to use trending hashtags. Recently, hashtags play a more significant role than they used a few years back. Today, trending TikTok hashtags are not only for challenges but subculture and TikTok communities with billions of views and raging fans.
Hashtags are also shown as trending when a great number of videos are using them, or when platform users agree to promote a certain idea or cause. It is visibly seen during the lockdown when users started the #stayathome(30.4 billion views) or #wearamask(5.7 billion views) hashtags.
#23 Post at peak times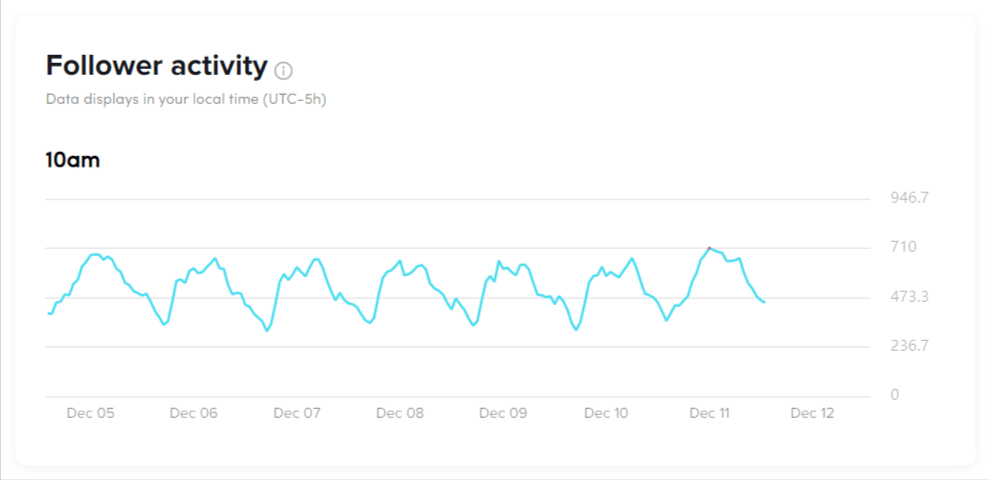 A little earlier we suggested you know when is the best time to post on TikTok, right? Yet, the best time is a standard one as times tend to vary depending on the day of a week, timezone, and country. The universal consensus is to publish a video at peak times when the majority of viewers are online.
As your video gets distributed, there is a higher chance to get on the For You page to more users and get seen. Because the algorithm does a job matching with content within a video's niche and location, users who see it are likely to visit your profile and even follow.
#24 Add keywords into captions
Not everyone knows that TikTok has released the auto-captions, which are now in beta and will be available in American English and Japanese. Yet, because the keywords are part of the TikTok algorithm and until the feature is fully developed, it would be best if you write your own captions.
Adding the keywords helps the algorithm discovery system better understand the context of the video, and serve to viewers who may be interested, all this having a direct impact whether you get more TikTok followers.
#25 How many videos are too much?
Because everyone around is sending 20 videos into the TikTok pipeline, does not mean more is best. However, analyzing how influencers post, you can see that the optimum number is between 3 and 5.
In truth, unless you are copy-pasting your old content or someone else's, there is no such number that gets you penalized. That said, artificially high video production can be a factor for account investigation. Plus, you won't be able to keep up with 15-20 interesting videos a day unless TikTok is the only thing you do day in and day out.
Also, you can actually lose followers instead of getting more as every time you post notifications will be sent to every one of them. This will not be welcomed by the algorithm that wants to keep users engaged.
Interact and Collaborate to Get More TikTok Followers
#26 UGC (for companies and brands)
UGC stands for "user-generated content", and is one of the best ways how a brand could get more TikTok followers. In the age of social media, the "user culture" is a force to reckon with, and brands know this.
To grow their business accounts on TikTok, brands often sponsor influencers to mention, tag, or take part in branded hashtag challenges. As the video gets distributed to followers of the influencer, some decide to upload a reaction video or join the challenge which contributes to the overall brand awareness and credibility, and gives a rise to profile subscriptions.
Bigger brands like Taco Bell or Guess employ multiple creators inviting their followers to create their own videos and win awards. During these campaigns massive amounts of videos are created by users, letting a brand stand out.
#27 Take part in TikTok challenges
That is what we have just mentioned discussing brand campaigns with sponsored influencers on TikTok. There are potential benefits of a TikTok challenge not only to get more TikTok followers but also to popularity.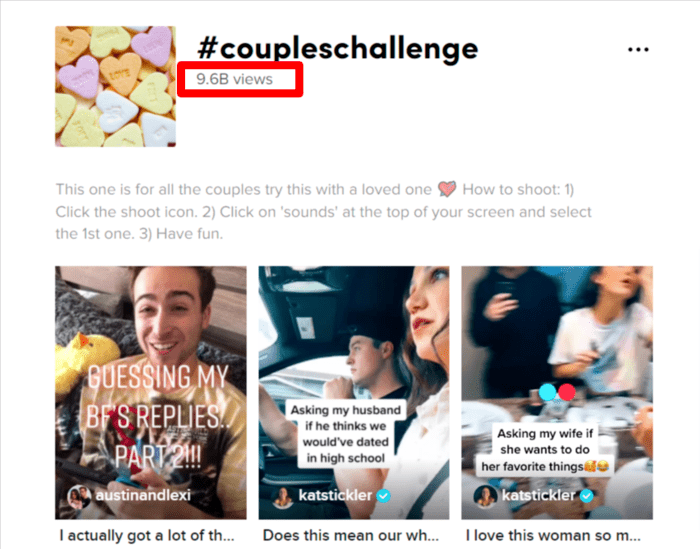 If a TikToker earns commissions for endorsing a brand during the campaign, other creators who join the trend increase their chances to get on TikTok's front page as more viewers search for trending videos.
Advertisers, on the other hand, improve credibility and spreads the word about their brand while encouraging users to share the content they create.
#28 Duet with most followed accounts
TikTok duet is a feature that allows you to record your video while another video is playing side by side. It is one of the most popular features, and many creators have discovered and followed fans for making hilarious duets.
On the one hand, it is surprising how a silly copycat gets more followers. On the other hand, being unique and creative is key. There are Duets where one video features a person and another – a pet with a similar facial expression. Typically, those have not just a ton of video views, but followers and likes.
Read our detailed explanation on How to duet on TikTok.
#29 Cross-promote on Insta and YouTube
Are you elsewhere on social media? Do you have profile followers? If the answer is yes, you should be spending some time cross-promoting your TikToks on Instagram or YouTube.
This way you could not only let followers see additional content but let them know why they should be following you across multiple platforms. Also, if you are a YouTuber who meets monetization requirements, you could upload TikTok compilations, including your own videos as well.
Most of them are so popular that they get millions of views. Cross-promoting TikTok videos, going Live, and sharing advice on how to get famous on TikTok is a proven way to get more TikTok followers.
#30 Be responsive with fans and viewers
To not only gain some followers on TikTok but keep growing continuously and consistently, feedback and encouragement is important. As the app downloads keep growing and the number of available content increases by the minute, every TikToker should stay responsive to viewers' suggestions and cheers.
Commenting on other creators' posts, answering emails and collab offers, timely responding to questions in comments and DMs can prove fruitful in the wrong run.
#31 Subculture communities and more
Communities on TikTok? Heck, yes!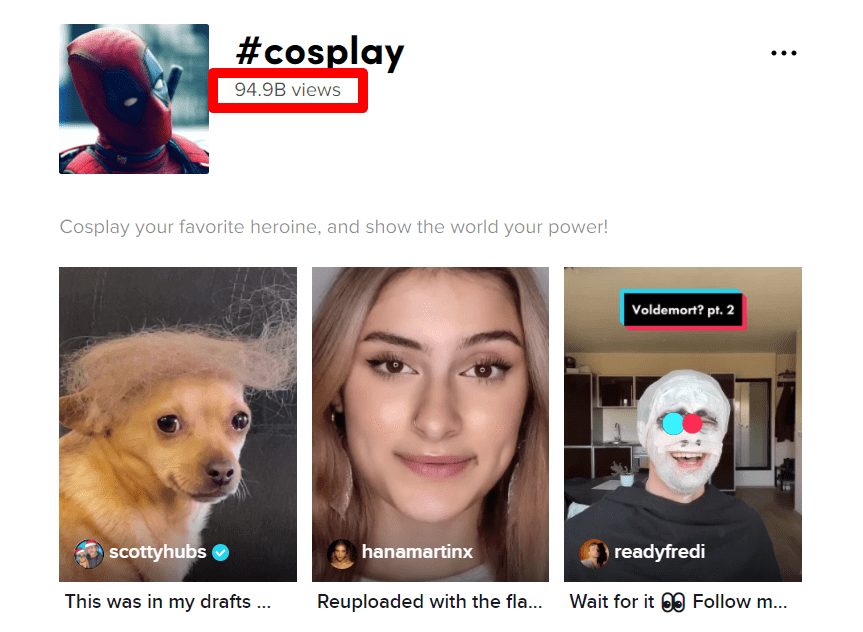 TikTok communities are centered around a certain hashtag like #WitchTok for witchcraft or #Booktok – for ultimate book videos. Through a specific subculture it is not only easier to connect to your followers and fellow creators, but easier to get more TikTok followers who are more than just a number on your profile.
Just like subreddits, TikTok communities are tight-knit communities with high engagement and a welcoming attitude. There are communities for every taste and need, for cosplay enthusiasts, gamers, gardeners, progressive thinkers, etc. Why not join?
Optimize TikTok Videos for Viewer Engagement
#32 Screen effect experiments
TikTok effects and filters are the first things every user considers when posting a video. There are dozens of effects grouped into Portrait, Vibe, Landscape, Food, etc., but it also allows you to combine multiple effects in one.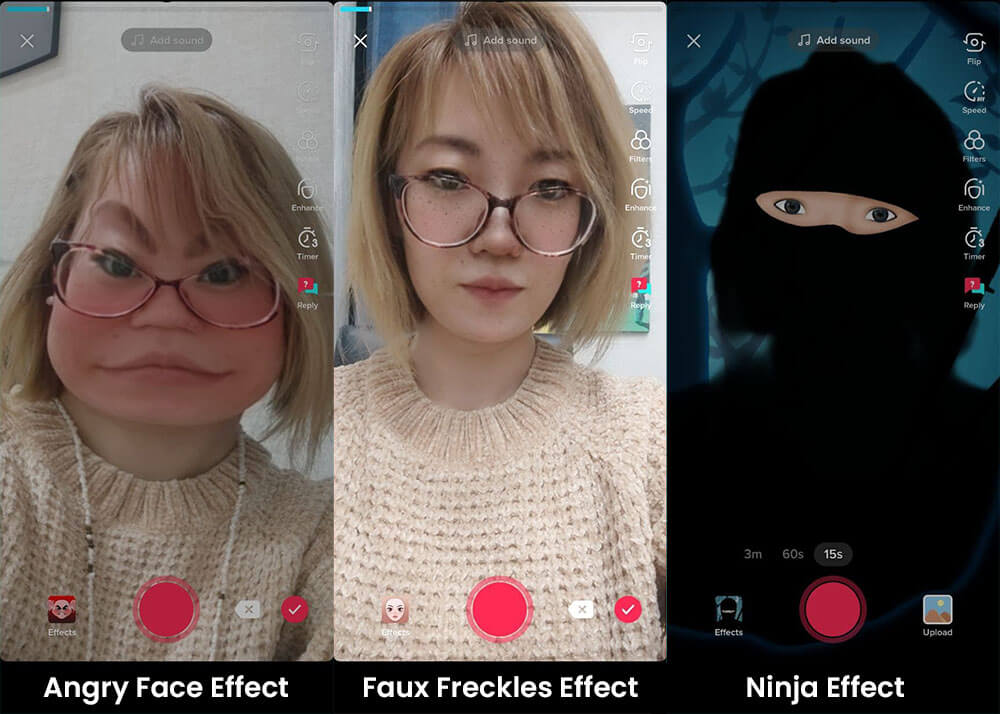 Besides the regular effects just like Instagram presets, there are also Interactive effects like Inverted Effect which reveals how other users see them, a Time Warp Scan used for image distortions, or Green Screen Effect that lets you use a custom background. A simple look at popular content hints that creators know interesting effects could get more TikTok followers than the standard filters.
We suggest you try all of them, especially Trending effects if you haven't already.
#33 All TikTok video types to get famous
There are 5 types of TikTok videos to experiment with: lip-syncing videos, reaction videos, duet videos, dance videos, hashtag challenges, Live videos. None is better than the other, and blending all is a sure way to get more followers on TikTok.
For example, a lip-sync video may use a popular sound combined with dance moves. And who doesn't like good entertainment? Hashtag challenges are usually brand-sponsored ad campaigns that feature a popular creator doing fun stuff, and Live videos are revealing Q&As or "behind the scenes" that show a more intimate side of the creator or brand.
If the goal of TikTok is to get more TikTok followers, being different is your best bet.
#34 Interesting content with twist
It is surprising how often creators forget to film the best quality they can. Then, again the cookie-cutter approach would also lower the chance of subscription. After all, before a user gets to follow, you must offer original content.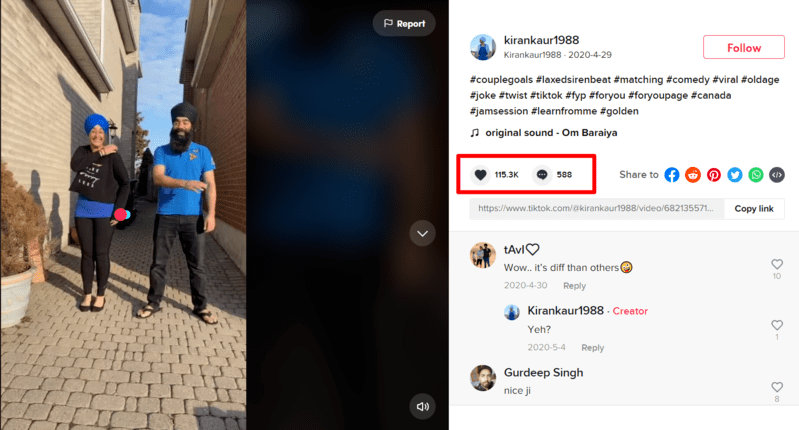 Let's take the two videos from the song we already know, Laxed. The first creator with around 1.2 million subscribers takes the same cookie-cutter approach and simply throws a few dance moves getting 190k likes. Another creator invites a partner to shake the same moves with a twist. There are other couples with significantly more likes, but they also have a million followers. Only this with just under 300k followers earns around 120k likes.
Could this be the best way to get more TikTok followers? Absolutely.
#35 Repurpose Instagram posts and videos
Nothing is as boring as repeating yourself, right? If you are struggling to get an idea for a TikTok video, repurpose your old Instagram content. As on any other social media platform, the content on Instagram tends to age quickly. Thus, for an active Instagram creator, the users may not see posts uploaded months ago.
Yet, repurposing does not mean copy-pasting. If you are to get more TikTok followers, mixing and matching is the way to go. You could do a fun comparison video putting the new and old look together. Or even try to use the Time Wrap effect together with some older IGTV videos.
#36 TikTok compilations on YouTube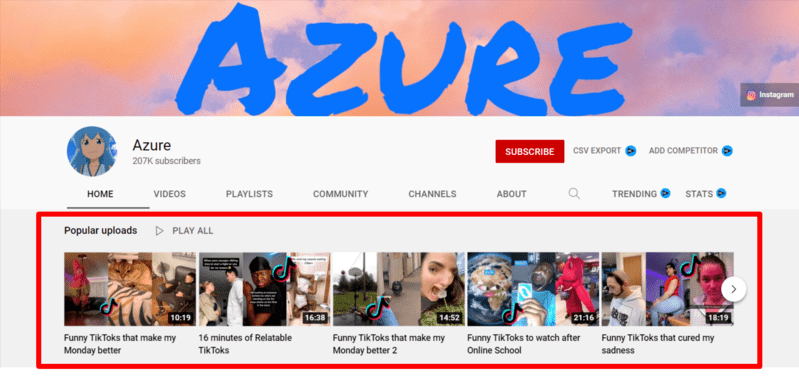 Better yet, repurposing TikTok videos for other video-sharing platforms. YouTube is perhaps the major one.
You could take a popular hashtag and then, using TikTok downloaders, save several videos to your device. Then, edit and montage, write a terrific description and title, and publish on YouTube.
TikTok Hype, Pink Peacee, and Azure are YouTube channels focused on daily uploads of fan-favorite TikTok compilations. The least number of subscribers on these channels is 87k, and the videos are easily gaining 20-30k in a matter of days. Although we didn't research if those accounts are also on TikTok, it is clear that if they are they know how to get more TikTok followers.
#37 Have you gone Live on TikTok?
Seasoned creators say that the best way to get more TikTok followers is to go Live. Streaming live is a highly supported feature with the app placing the trusted creators on their front page. It is also important for another reason.
Your existing followers get notified when you go Live, and their followers will be suggested to tune in once they join your stream. Simply put, the suggestion algorithm is like a net trying to engage more viewers. Multiple studies have shown that over 80% of TikTok users will join suggested live streams, and 20% of them will turn into followers. Yes, it looks like the well-known Pareto principle applies to live streaming on TikTok as well.
#38 Staying motivated and consistent
You've heard multiple times that consistency is key in gaining more followers, likes, and views on TikTok. How could something as simple as uploading a video every day for 30 days is going to help you get more TikTok followers?
To understand that you should take another perspective. How much would you like to follow a creator who uploads daily compared to another one with no particular schedule? If you are wondering what is the ideal number of videos to upload on TikTok daily, studies show that it is between 3 and 5 every day. That said once a day is also better than jumping from 10 to 0 and back again.
#39 Allow downloads, DMs and duets
It is interesting to know that some TikTok creators do not allow users to download, duet, or stitch their content. While this eliminates the copyright issue, it ultimately lowers the chances to get more TikTok followers.
On the one hand, duets done by other creators extend the original video's popularity as TikTok shows the duet video to followers of both creators. On the other hand, by allowing duets and stitching you befriend your viewers.
#40 Uppen your engagement on TikTok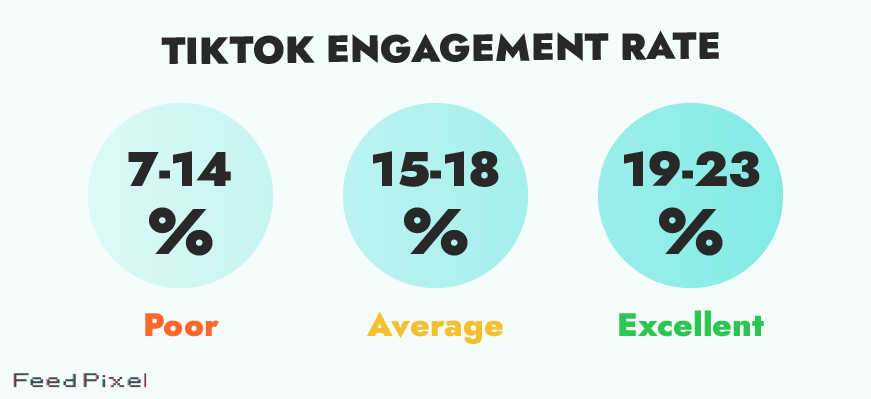 The best way to get more TikTok followers is to grow engagement through regular uploads, duets with other creators, and shooting non-typical videos. By engagement, we mean achieving the highest number of likes and comments for the times your content got viewed.
There are quite a few tools that calculate engagement rate based on your recent activity and viewers' reactions.
Generally, the good TikTok engagement rate is between 19% and 23% which means that out of 100 users who watched your video at least 19 have liked or commented on it.
You can read more about what the TikTok engagement formula is and why it matters for video rankings in our new post.
#41 Cover image with text
This could be an old dog trick but adding text to the cover image not only improves the engagement rate but helps you get more TikTok followers down the road.
Here at FeedPixel, we have done a little experiment and split 100 random videos on TikTok equally into the groups having a text on the cover and not having it. Then, running our TikTok calculator we calculated the engagement rate. As it turns out there is a 17% difference between them, meaning that covers with text received 17% more views, likes, and comments than those without. This could be explained by viewers being incentivized by the message.
#42 Start a challenge or trend
Yes, most brands and mega-influencers who partner with them start a certain challenge or trend. But in reality, any creator could, and your viewers are catching the tunes, this could turn you into becoming one of the most followed accounts overnight. Need some proof?
Bella Poarch, one of the most popular TikTok influencers, had been on TikTok for just 4 months when her "M to the B" lip-sync video came out. It immediately catapulted her to the very top of TikTok stars and generated hundreds of similar videos. Needless to say, the M to the B trend helped Bella get more TikTok followers than she could have imagined.
Psychological tricks to get more TikTok followers
#43 Followers want to see your eyes
That's a little psychology trick that relates more to the followers you already have than the potential ones. The goal is not only to get more TikTok followers but ultimately retain them. Something as simple as keeping eye contact while recording is what builds the connection between the audience and a creator.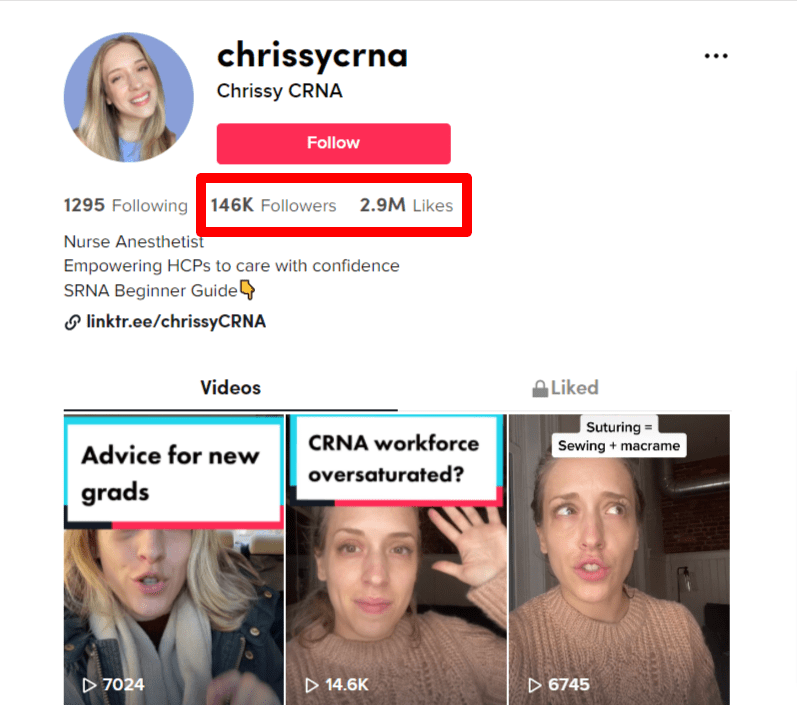 Moreover, it is easier to show your character and emotions. Simply staring into the camera won't help. Chrissy CRNA, a nurse anesthetist as her bio says, is a good example of how to make TikToks not only engaging but educational while knowing how to get more TikTok followers and likes. With just 146k followers, Chrissy gets as many as 2.9 million likes.
#44 Don't mind For You page
Isn't this counter-intuitive when creators are actually pre-programmed to want to get on the front page of TikTok? Turns out you have to focus more on TikTok ideas and how the majority of viewers would react rather than trying to please the algorithm.
This advice comes from one of our trusted sources Tyrie Brooks, an influencer with millions of followers who first puts the content but doesn't miss on the #fyp hashtag as well. Unsurprisingly, she knows how to get more TikTok followers in a week than you would spend months.
#45 Be your best self
Whether you are a good singer or dance, or a makeup artist, TikTok is a place to put your talents on display. If you are just chatty and bookish, that's also fine as there is a whole community called EduTok where TikTokers share advice and tips.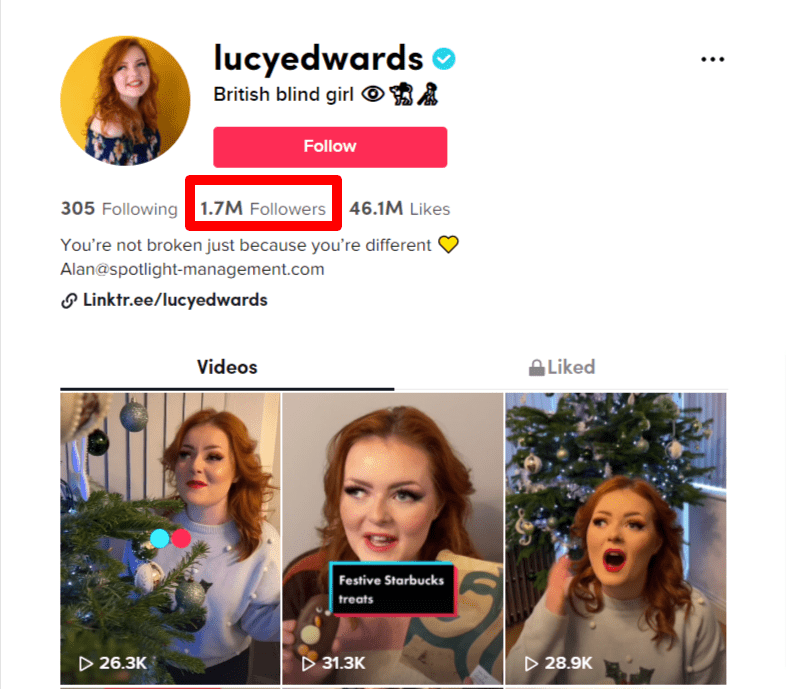 Even being blind, has not stopped Lucy Edwards from becoming a TikTok influencer as she managed to get more TikTok followers than a Hollywood star Jennifer Garner (who has 1 million TikTok followers)! Most of her videos have the #edutok hashtag and show how she manages her daily routine while being her unique self.
#46 Get help from BFFs
Do you have a friend who is as fun-loving and creative as you? You could keep a shared account where you both upload. Better yet if you have a tween. A few years back the tween thing became a big trend on TikTok, around the same time the Ribka Tweens got popular.
Tweens aside, 80% of all prank videos on TikTok feature BFFs and romantic partners. Getting other people involved is like doubling your chances to get more TikTok followers.
#47 Include call to action
Without trying to be a YouTuber, who asks for subscriptions, in the beginning, give your followers a choice by offering a cause to follow you and you will get more TikTok followers.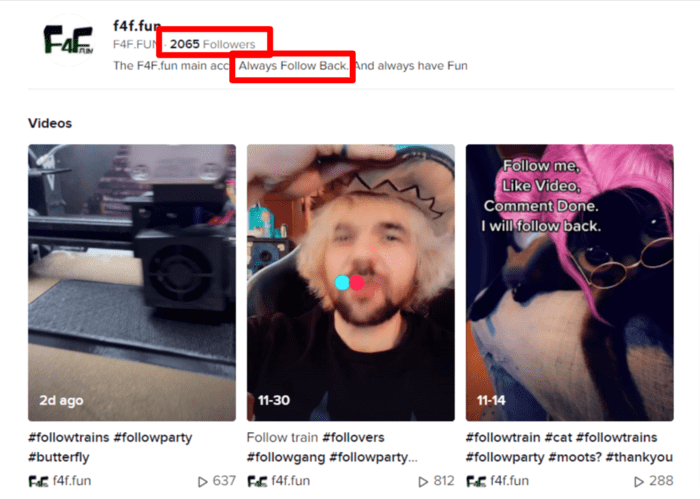 Just like the creator @bismapar is doing in her recent TikTok explaining how ordinary folks can help oppressed Palestinians through sharing videos with others. On the other hand, @f4f.fun's example shows that the worst way to ask to follow is by asking directly instead of having a context.
#48 Change scenery often
This does not downplay the idea of having a context but enhances it. As TikTokers are used to a high-paced video type, practice shows that videos that flip scenes have higher engagement. Guess what, the green screen effect has been used to make flipping easy and fun.
Besides hilarious greenscreen before/after type videos, #mirrormoves, one of the most popular TikTok memes of 2020 allows for the maximum switch as you run through the mirrors. Not only the background but your boots, outings, and makeup. We can't see why this won't get more TikTok followers than you already have.
#49 Know your competitors
As one of the TikTok influencers once shared, the difference between a popular creator and a regular one is in how much "brain-wrinkling time" they want to spend on TikTok. She surely meant learning how to get more TikTok followers and not idling around.
Thus, Tanya's best approach is to watch as many TikToks as she can within her niche, which is lifehacks/ Before she gets out her daily advice she makes sure no popular creator has shown it in detail as this lowers the chances of the "newness effect". Not surprisingly for her meticulous approach she is rewarded with a ton of likes and gets more TikTok followers and likes than competitors in her niche.
#50 Advocate for a social cause
We could refer to the previous example of @bismar who is advocating for justice for oppressed Palestinians or list another one. The point is that green living, fitness/sports, outdoors, weight loss, etc. generate billions of views and attract fans.
Besides being moral, social topics are often the reasons that bond users together and let them find and get more TikTok followers.
To Wrap It All
If you have been following this post, you should have a good idea of how to get more TikTok followers.
As much as the TikTok algorithm matters, we have seen that there are multiple factors influencing subscriptions and the overall profile growth.
Such factors include the video quality, uploading schedule, the TikTok engagement rate, and urge for experimentation.
To increase the count and establish profile authority, followers are also purchased from TikTok services or ordered from generator apps.
We suggest you look into related posts listed for learning the basics of the TikTok app, the algorithm behind it, and its features like live streaming or making duets.