How to change Facebook Page name?
This might a question you are asking if you are in dire need of changing it. For whatever reason that is, let us find out how.
Before you go ahead and change your Facebook name. You want to make sure it is what you really want.
Because despite the changing page being easy, it might not be what your fans want if you have a large following already.
Perhaps, your old name is good enough. And your fans like it.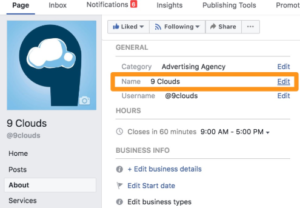 There are several ways through which you can connect with people from all across the world on Facebook.
Making a Facebook page is one of the ways through which you do so. A Facebook page can be for fun or for promoting your business. Many people make Facebook pages to sell their products online.
If you made your Facebook page a few years ago and want to use it for some other purpose now or due to any other reason if you want to change the name of your Facebook page, then don't worry it is possible to do so.
Changing the name of your Facebook page is quick and easy
All you have to do is:
1. Log in to your Facebook account which is linked to your page.
2. Then click 'About' on the left side of your page.
3. A new page will be loaded where you have to click on 'Edit' which is located right next to the Facebook page name.
4. Enter the new name for your Facebook page and click on 'Continue'.
5. After doing these steps, review your request and click on 'Request Change'. It is important to know that only the admin of the Facebook page can change its name.
📌 Find out How To Delete a Facebook Group if you want to get rid of your group all together instead of changing its name.