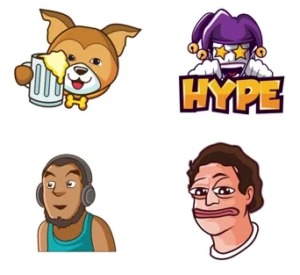 How to make Twitch emotes?
Emotes are the perfect conversation decors when you want to fire up the chat.
They are a good show of appreciation and respect for your favorite streamer.
From the point of streamer though, they are the thing that connects you with your audience.
Twitch is the most famous online game streaming platform. Multiple players can play a game and chat with their viewers in the chat panel.
Just like every other social media platform like WhatsApp, Facebook, Instagram, and Snapchat; Twitch could also not resist introducing the emote feature.
People tend to use emotes in their chats while playing and streaming their games on the platform to show their emotions whether they are excited and happy to win a game. Or even when they are frustrated about how difficult the game has become; whatever their emotions may be, emotes can really help these streamers to showcase them.
Ways to Create Twitch Emotes
First, you will have to prepare a draft of your emote to determine what emotion you would like it to portray.
After this, you will have to sketch the emote or take a picture of it. And scan it on your computer.
Next, copy the emote to the Adobe Illustrator to lower its opacity.
Copy it again on Photoshop to resize your emote if required. The platform support emotes in three different sizes that are 28, 56, and 112 pixels.
Once this is done, you can download the emote in the PNG version and upload it on Twitch chat to use it as your emote.

However, there are a few web-services that help you make Twitch emotes. The advantage of using those sites is that they are easy and simple.
📌 You can learn the Top 5 Websites To Get Free Twitch Emotes [+ Streamer Tips] there for more information.
📌 In case if you saw emotes of some other people and would to clip it head over here to learn How To Clip On Twitch?