How to upload resume to LinkedIn?
LinkedIn is the best platform to find like-minded people and jobs you like.
Uploading a resume onto your account in LinkedIn is thus, very important.
However, you need to realize that LinkenIn in and of itself a platform that replaces resumes. Of course it is not meant to serve as an online resume platform, which is why it way more than that.
Linkedin is a great platform to connect with your colleagues and the people you would like to work with in the future. It is an incredible platform to land jobs since millions of people can view your profile and resume.

Therefore, if you are thinking about uploading your resume to Linkedin, then don't worry, it is not difficult at all.
All you have to do is click on the edit option located in the top right corner and go to the Media section.
Then, click on Upload and browse your resume. After uploading your resume, add a title and description and click on 'Apply'.
Save it to upload your resume to Linkedin completely.
How to upload resume in LinkedIn
Follow the steps shown in the below picture to upload your resume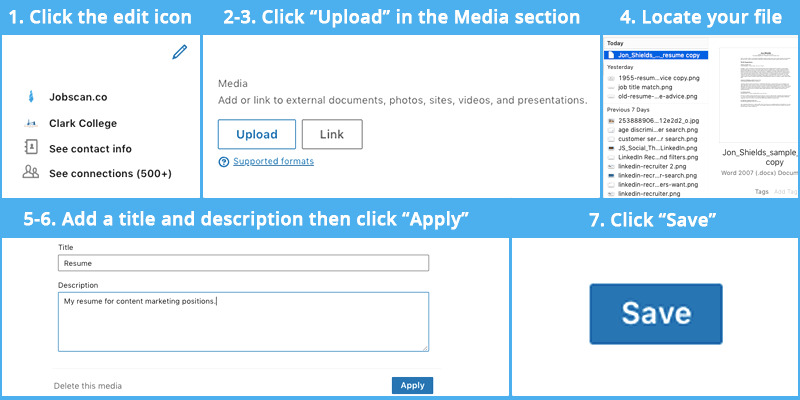 Before you go ahead and blindly upload and start applying for jobs in LinkedIn. You need to look at the alternatives ways of applying for jobs. Surely it is easier with an already uploaded resume.
However, keep in mind that sometimes recruiters just cruise around on the platform to find someone that fits their platform.
If you optimize your platform well enough, you might show up on the results. That will also make it more likely that you will be mesasged and asked for interview.
Whether you choose to take the interview or not is totally up to you. But the fact that optimizing works just as well compared to upload your resume to LinkedIn remains all the same.
📌 Head over to our blog for more interesting read, and social media hacks and tips and tricks.