Just wondering of how to TikTok (yes! "TikTok" has suddenly become a key part of millennials and Gen Z speeches 😁 ), or have already spent quite some time on the platform – there's always a time when we all go back to basics to refresh things that fell asleep at the back of our minds.

We've got you covered! 8 easy-to-get-through troubles every TikToker runs into at least once in their lives are clearly split up into "how to" and "why to" sections to provide a clear solution.

Read along to find how to maximize your TikTok presence from the get-go.
Challenge #1: How to TikTok?
Depending on what you mean by "how to TikTok" there are lots of possible answers here, but let'sstick to the one which says it all. Shall we?
How to:
Get the app installed on your smartphone to get started. The next thing to do is to tap the Me icon at the button of the screen to sign up with your Google, Facebook, or Twitter account (whichever you choose).
Allow the app to access the folders on your device, and add and verify your email address or phone number. Done! A new TikTok star-to-be is born. Hit + button whenever inspiration tells you to shoot your first TikTok video.
Why to:
An amazing free app for both iPhone and Android allows you to film, edit, and publish a music video, ignites your creativity, and trains your brain muscle 😊. Modern teens craze, the dynamic platform has filters and effects, and a massive music library, letting users tune and score their content to unheard comedic effects.
Challenge #2: How to change TikTok username?
It's been a couple of days since your quest, and it hits you up that the username you've initially chosen says little about your brand persona, or worse, might well affect your lip-syncing probes! Keep calm here's how to get it fixed in less than a minute.
How to:
Go to your profile tab (a Me button we talked above), you'll see a red button calling to Edit Profile. Clickon it, type in your fancy name. Just keep in mind, the usernamecan be changed no more than once every 30 days as TikTok support says.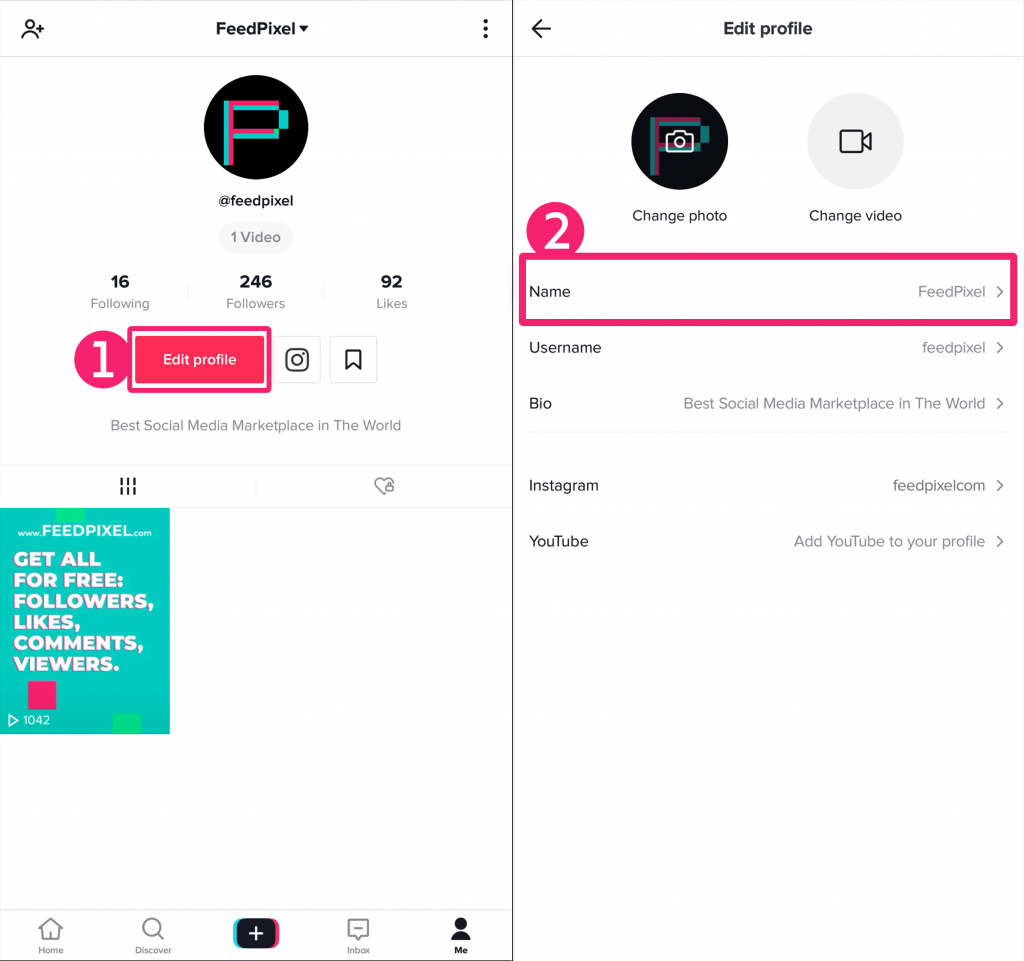 Why to:
Filming on TikTok is fun, right? But there's more thanmeets the eye. Becoming an influencer on TikTok may double your earnings aspeople frequently ask TikTok celebs to endorse their products, channels orwebsites, ready to cough up. Now, how much childish your username is, and doesit really reflect your personality?
Challenge #3: How to go live on TikTok?
How to:
Log in, as usual, tape the + button, and when the video screen opens up hit the Live button. Before you film, you need to put a catchy title for your live creation. A title expressing the whole idea behind your video and adding value to your TikTok account performs best. When you're done tap on Go Live and your stream begins in a second.
Why to:
Live streaming is a fun challenge that lets you discover new facets of daily You. Your TikTok fans and followers online may see you going live and comment on it that second (see a boost in engagement?).
Plus, there's always an option to immediately share your video on Facebook, Twitter, Instagram, and WhatsApp directly from within the app. Just keep in mind that in some countries, and older versions of TikTok you may need to get at least 1000 fans before you go live.
📌 Quick Tip: If you want to estimate potential earnings as an influencer on TikTok, based on the current number of fans, likes, and views on your account, check our TikTok Money Calculator.
Challenge #4: How to reverse a video on TikTok?
Reversing a TikTok video adds peculiar flavor drawing in fans to your posts. And it's quite simply done from the app itself (although there are also ways to do the same trick through third-party video editors). Have a couple of minutes between the classes? Practice TikTok reverse!
How to:
Log into your account, record a video by tapping +, and pressing the Check icon. Preview your video and hitthe Effects button at the bottomleft, and choose Time effects. You'llspot the Reverse option right away, tap it and wait a minute or to two forprocessing. See the fun results yourself, and post for others to enjoy.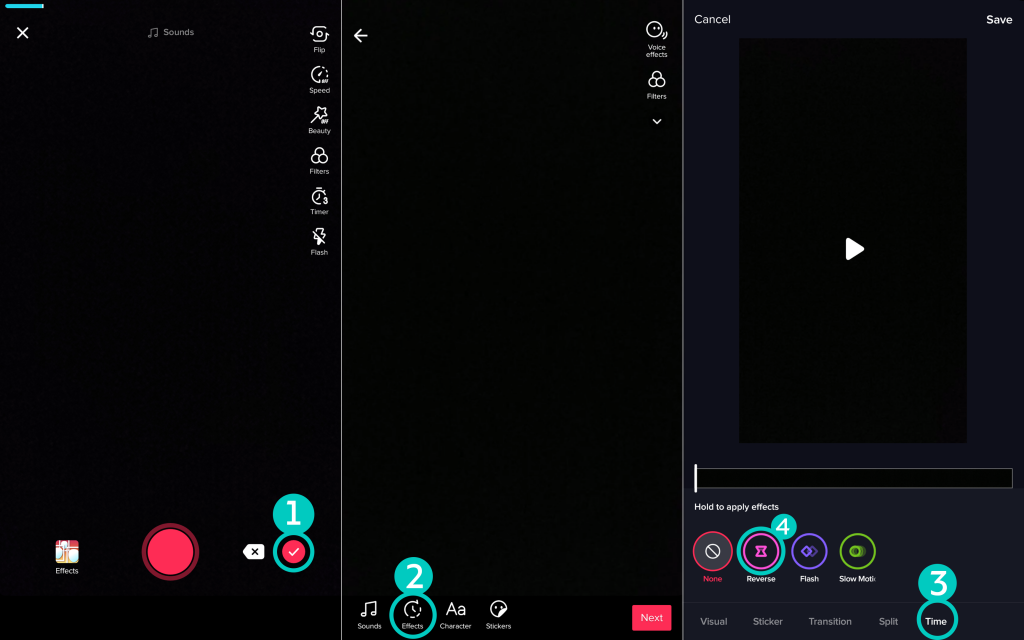 Why to:
Now you've found a fun way to accept a reversechallenge on TikTok. Bear in mind the more non-standard your video is, the moreit is likely to charm app users. The moment of truth, who doesn't want amillion fans on his TikTok account?
Challenge #5: How to add text to TikTok video?
Achock-full app is a dream toolkit to shoot the next Internet sensation. Adding a text to your clip is the least difficult task you might need to spark mass following.
How to:
Once you've filmed your video, press the red Check button and click on the Text button on the bottom left corner of the screen. Go creative with the text color, font, and alignment. If you want to delete the text, click the Text and then click the X icon in the top left corner of the text box. Type in your catchphrase. When you're done with editing, click Next. Time to have some fun with descriptions and hashtags (you may also tag people) before you share your video.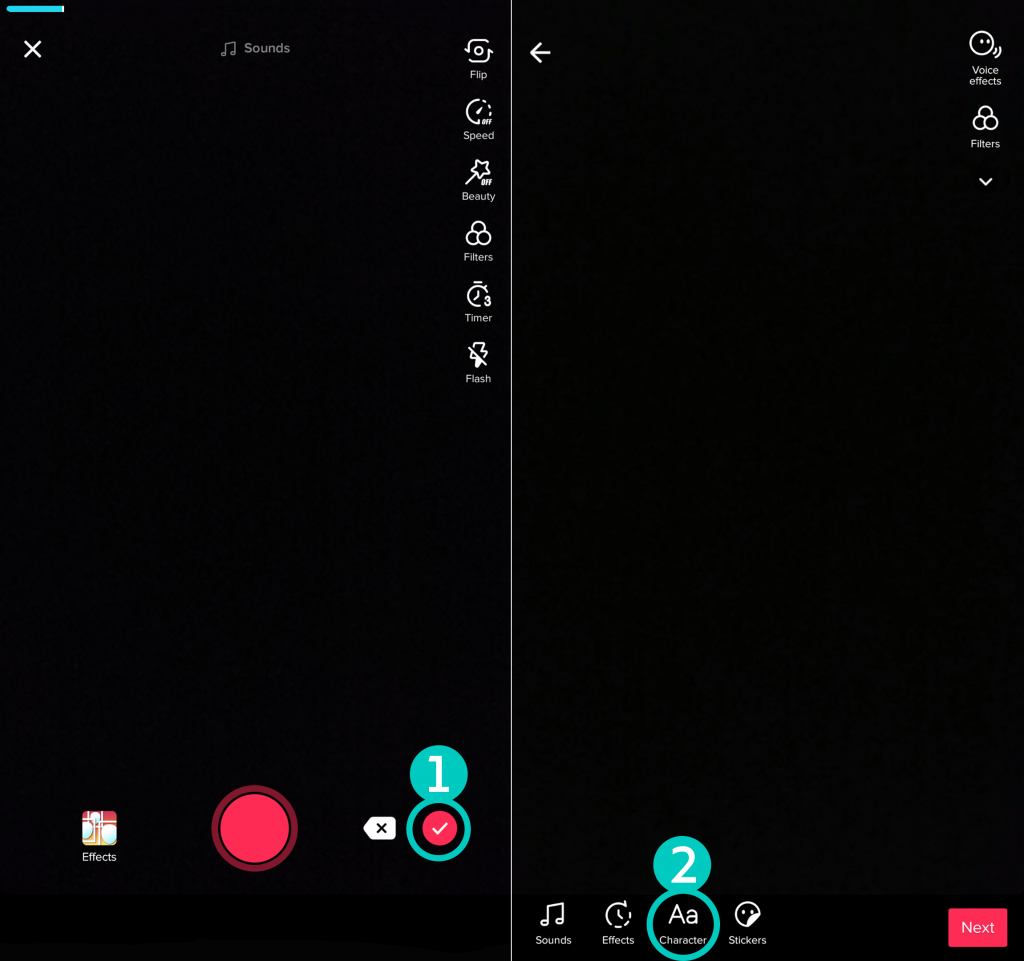 Why to:
Adding a sentence or two not necessarily makes youpopular from day one, but unquestionably is a sure way for your fans to catchthe gist of your videos boosting your likes and comments count.
Challenge #6: How to slow down a video on TikTok?
Pacing a bit your TikTok video brings in magic, giving your platform presence a whole new angle. A so-called slow-mo effect is the hottest 2019 trend to experiment with.
How to:
As soon as you opened the app and clicked +, you'll see the default speed option as 1x (which is a normal speed for a video). Pick anything less than 1x; 0.5x or 0.3x may be a good option to slow down a bit. Press the Record button to shoot your 15-60 second clip and hit the Check button to play around with the effects and sounds you want to add to the recording. Tap Post to go public.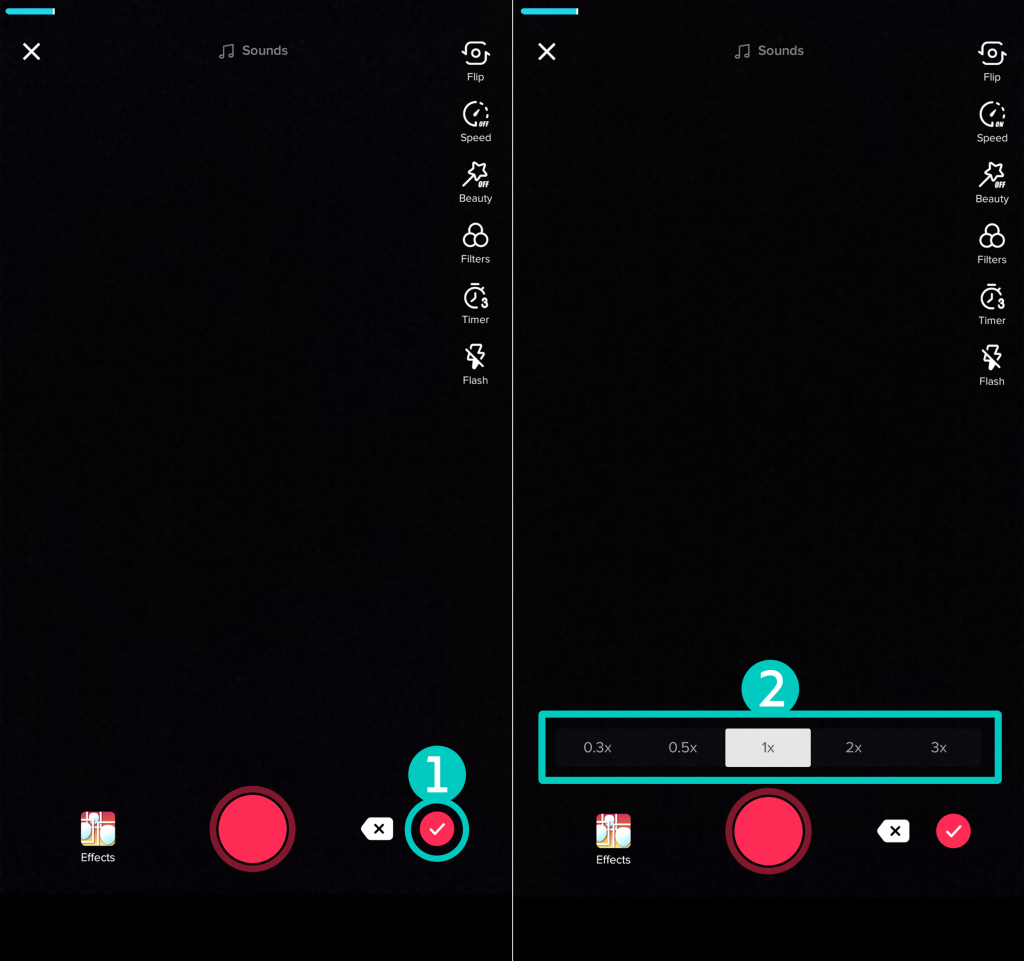 Why to:
Really? You still don't think slow-motion TikTok rocks? Just have a look at Noen Eubanks, Anthony Reeves, or a bunch of others going crazy over the latest trend. Millions of fans around the world are liking, commenting, and mimicking their shoots. Why not give it a go today?
Challenge #7: How to edit a TikTok video?
Let's face it, editing may sound daunting! After all who likes spending hours cropping, adding visual effects, and rest? Here, before you say, Jack Robinson, your TikTok video is already edited.
How to:
Tapping + brings up the editing and recording interface, allowing you to "Flip", change the "Speed" or "Add a sound" alongside its "Beauty" and "Timer" effects. Once you've finished recording, you are set to edit it by tapping on appropriate icons. Trim button shortens the video, while Mixer optimizes the sound level between the video you recorded and the soundtrack you've chosen.
Effects are another interesting feature to explore. From Halloween to cat-dog, high spec effects add delicious flavor to your shoot. The flip button helps to take selfie-style videos. Filters modify image contrast and the color palate. And you can always shift to the initial recording by choosing Normal in the Portrait section of Filters.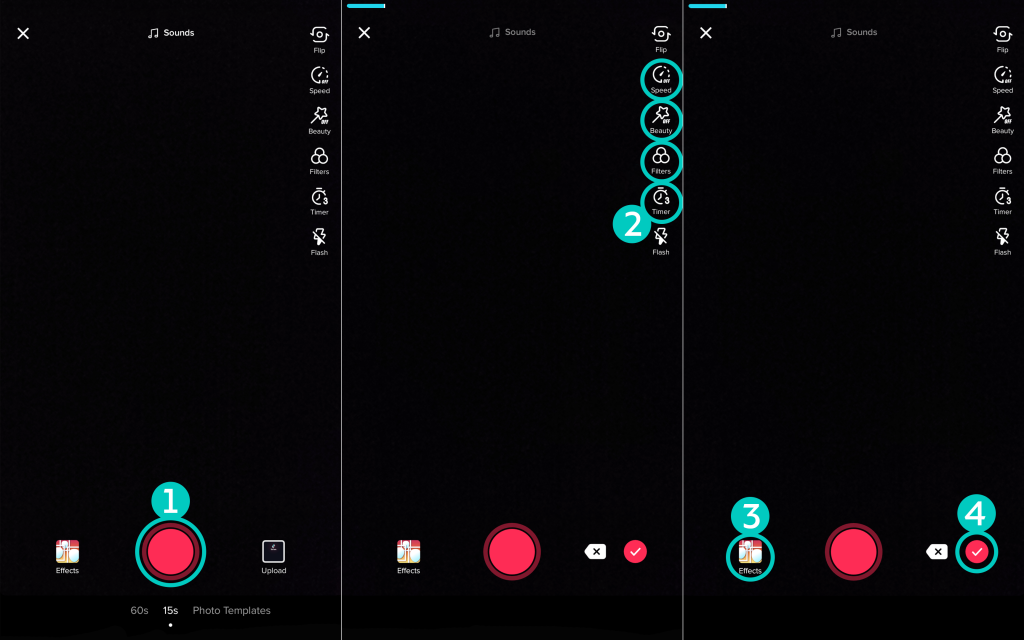 Why to:
Remember how many people use TikTok daily? 150 million with an average watching time of 52 minutes! Do you see the point of editing as a way to stand out?
Challenge #8: How to delete a TikTok account?
Well, it goes without saying that there are alwaysmoments we want to crash the platform (or at least delete the account).Whatever the reason is, you gotta think twice before you cut once, promise?
How to:
You go to your Me icon and click the Settings in the top right corner. Tap Manage my account and (oh, no!) hit the Delete button. In case you signed up with your Twitter or Facebook you'll have to press Verify and Continue to sign in there before confirming your TikTok account deactivation. Deactivation!?
Yup, according to TikTok guidelines, your account will remain deactivated within the 30-day period, in case you change your mind. The system may also require you to verify your phone number by entering a confirmation code to continue with account deletion. Tapping Delete you'll be logged out immediately as you confirmed the step.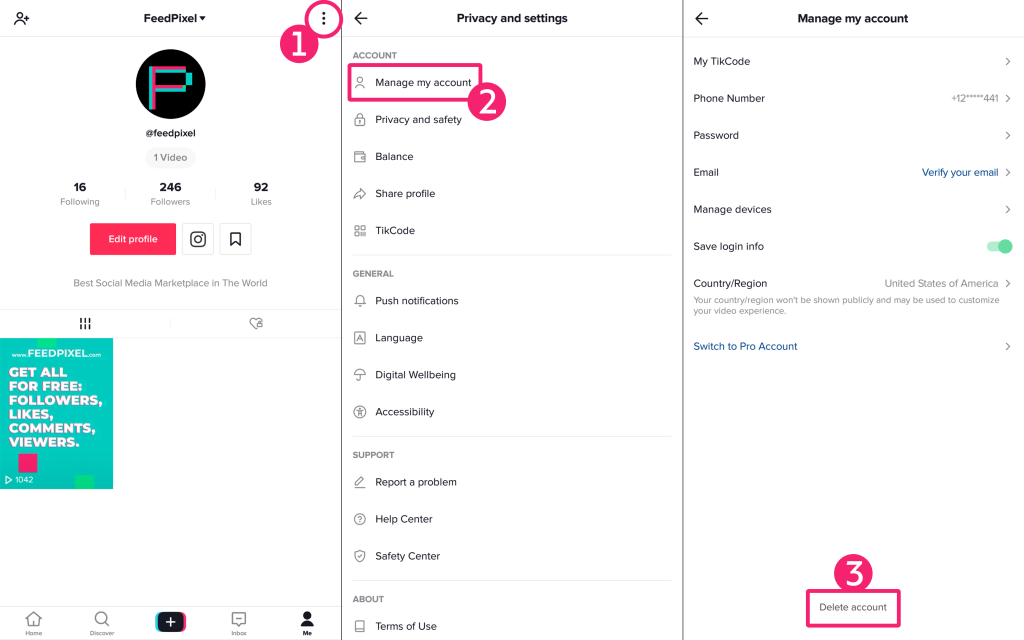 A few things to remember:
📌 Deleting your account, you automatically lose access to all the funny moments you recorded in the early days on the platform. Shared information, such as chat messages, however, may still be visible to others, even though the account itself is no longer visible to the public for a 30-day deactivation time before being destroyed. 
Why to:
The most justifiable reason (and perhaps the only one)might be an addiction. Well, yes, we all know the horrifying effect a serioushas on our health. So, for the sake of your mind, keep calm and press theDelete button.
Key takeaways
We've made an effort to join all the first-step hurdles an average TikTok user might bump into. An easy step-by-step guide on how to use TikTok, challenges while shooting a video, and editing it, plus terminating your TikTok presence for good, walks you through the early stages of your TikTok life.
Now, as you refresh the basics of how to TikTok, would you mind driving your fans crazy with your next one-of-a-kind shoot?
📌 Read the whole TikTok category in this blog, or learn more how to get TikTok famous.