Wondering if the "follow for follow" method can help you get more TikTok followers?
No more questions as here you will learn why many TikTokers still add the #folow4follow hashtag to their videos or in the bio, and the notice "you are following too fast". To date, the hashtag has over 9 billion views.
We will also explain the safe limits for following other accounts on TikTok asking to follow back, sometimes also referred to as mass following, and declare a verdict if the follow for follow is worth the associated risks.
Now, let us take you on a journey of the follow/unfollow method.
We will explain why you may be seeing the "following too fast" error message in detail since TikTok's own support page leaves some important questions out 😉
What is follow for follow?
If you are new to TikTok or haven't tried this technique, you may not know what follow for follow means and how it works.
As mentioned it is a method of following as many accounts on TikTok as possible and asking to follow back. Typically it comes hand in hand with further unfollowing, once the account has followed you back. That is not to say that 100% of those who follow you will unfollow, but practice shows that many of them will. Thus, it is also referred to as the follow/unfollow method.
To put it simply, it is a downplay of following for the sake of connection and has both plus and minus sides to it. The TikTok algorithm is aware of such manipulation techniques and limits the number of accounts you can follow in 1 day.
The two things to keep in mind before getting into the follow/unfollow game are the initial number of followers on your profile and the safe limit of the following in 1 day.
TikTok is not the only platform where the mass following, the other term for follow/unfollow method, is used. It is also used on Instagram and Twitter.
2 ways to use follow for follow on TikTok
The following on TikTok is the same as on other social media apps and can be done both manually and automatically. While the last method requires the least effort on your part, it is the riskiest for multiple reasons. You can jump right to the pros and cons of following too fast to learn why following is better done manually.
️ Method 1: Follow for follow on TikTok manually
The biggest pro of following manually is your consideration and not just the "button-clicking" which increases your chances of being followed back.
SCHRITT 1. Log in to your TikTok account (preferably from mobile).
SCHRITT 2. Tap the Discover tab and enter the "follow4follow" into the search bar.
SCHRITT 3. You will see the 5 tab filters labeled and the tap on one labeled "Hashtags".
STEP 4. The results will show all related hashtags that group videos from multiple creators.
STEP 5. Check only creator accounts whose content you liked and whose number of followers is not far different from yours.
️ Method 2: How to do follow for follow with automation tools
There are multiple websites promising to automate the process of follow for follow through connecting your TikTok account to the app and allowing a bot to complete actions on your behalf. Using the steps below you could try any of them at your own risk.
SCHRITT 1. In most of them, you will be asked to create an account and then log in to your TikTok account connecting the two accounts.
SCHRITT 2. Once you connect accounts you will be prompted to set the constraints for TikTok bot following on your behalf. Among the most common are the number of followers and following, an option to enable unfollowing, the speed of your following, and some also allow profile quality filters.
SCHRITT 3. Set as many filters as the app allows to narrow your focus to make actions done by the TikTok follower bot as organic as possible.
STEP 4. Customize the specific days and time for following, and if unfollow is enabled, the interval between following and unfollowing.
STEP 5. Check back often to make sure the following script is run according to the filters and conditions you have established.
The pros and cons of the "Follow for Follow" method
As any trick aimed to game the algorithm and grow the number of followers faster and easier, the follow for follow method has both benefits and downsides.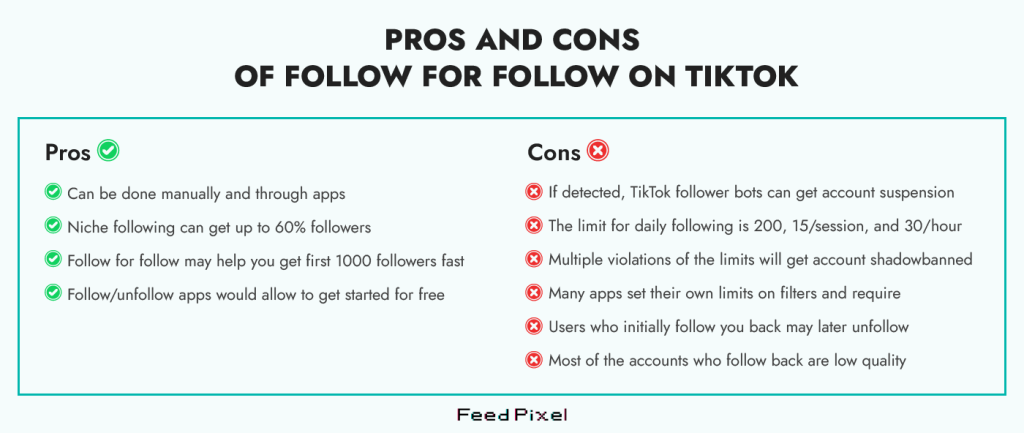 On the one hand, the follow for follow method allows a creator to get as many as 60% or more of following back. The number is not universal and fluctuates from 10% to 60% depending on how well the accounts are chosen.
Wasn't the question of whether the follow-for-follow method works the primary question of this post? Bingo!
Selecting TikTok accounts within your niche and followers range will help you get 1 to 6 followers for every 10 you follow. It is also important that accounts are from a similar geographic location as you. Many creators would mention the country/state in the bio or use a regional hashtag in their video captions.
Another pro of follow for follow method is that by following the safety limits for you could shorten the time necessary to get your first 1000 TikTok followers.
Furthermore, creators who use the same #follow4follow hashtag want the same as you – to get more TikTok followers. Thus, they are more likely to follow you back.
Additionally, both automatic and manual ways to follow accounts will require minimum time and effort compared to other ways to build your audience on TikTok.
On the other hand, without exaggeration, the cons of the follow-for-follow method gone wrong could be dramatic.
Starting from the connection of the TikTok account to the app, there is a risk of being locked out of your own account if the app owners change the TikTok password for personal gain.
This could be eliminated by first connecting a test account, although certain apps require that you have your own followers before participating in the follow-for-follow process.
Oftentimes, the apps would run on a freemium basis allowing you to create a free account and use basic features, but asking to upgrade to increase the followers limit, use certain filters, get follower growth statistics, etc.
Some automatic following apps employ a reward system that will require you to watch ads or fill out the survey before you set/change follow filters.
What happens if you follow too fast on TikTok
You may be interested in what the "You are following too fast" notice on TikTok means and whether it may have a negative impact on your profile growth.
Remember we have previously mentioned that there is a daily limit to how many TikTok accounts you could follow? Expanding on the limitations, there are also restrictions for the number of accounts you could follow in one go and the safe intervals between following.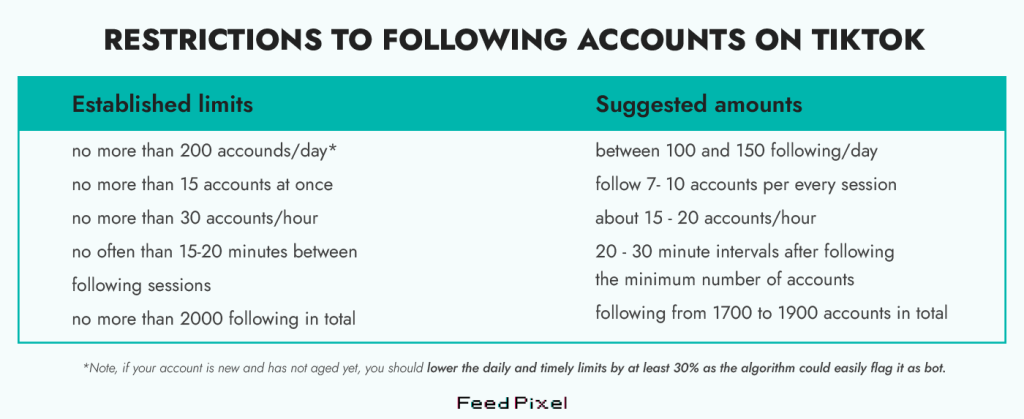 If you happen to see the You are following too fast notice, know that you will be prevented from following other profiles until some time has passed. The restriction to follow could last for the whole day, and it is best to avoid getting flagged by the algorithm by following less than 15 accounts in one login and allowing 20 to 30 minutes to pass before your next round of follow for follow.
"The limit is reached, you are unable to follow" is yet another notice you will see when the daily limit for following accounts of 200 is reached.
Failing to abide by the following rules, continuously reaching the limits you may get a shadowban when new videos are excluded from the promotion algorithm. Such videos will not be shown to TikTok users and have zero views on them. As there is no explicit explanation to how long a TikTok shadowban can last, it is best to avoid breaching the safety norms of following on TikTok.
Besides, creators could report you as a scammer which will result in account suspension or permanent ban.
For you to easily remember the suggested numbers of follow/unfollow you could refer to the infographic above when in doubt.
How to unfollow on TikTok fast
Just like with follow for follow, the fastest way to unfollow on TikTok is again through connecting it to the follow/unfollow automation app. The only thing you do is switch on the automatic unfollow feature and set the regular intervals and/or rate for unfollowing.
We could not list the steps to how to use the unfollow feature as it is different in all apps, and sometimes only offered as a premium feature.
However, the manual unfollow could be as quick and efficient as automated.
SCHRITT 1. Log into your account and tap the Me icon to go to the profile page.
SCHRITT 2. Once on the Profile page, tap the Following to see a list of profiles you follow.
SCHRITT 3. Choose which TikTokers you want to unfollow and tap the "Following" button.
STEP 4. The activated button will turn pink with the "Follow" label on it. Follow down the list of the profiles you follow and you will see the number of "Following" quickly reduced*.
Hinweis, just like with the established limits of unfollows per session, per hour, and per day as well as the suggested limits shown in the table below.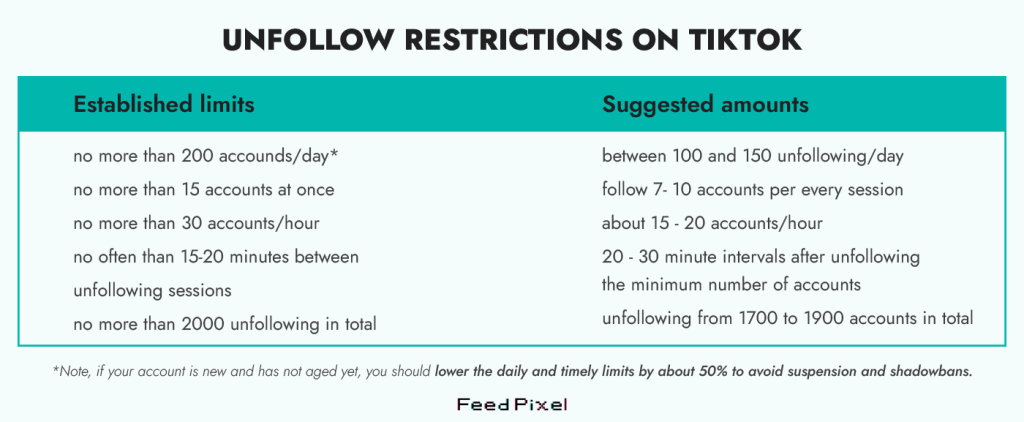 You could see that the limitations for mass unfollowing are the same as those for mass following.
Should you use follow for follow technique – the verdict
Summing things up, the well-known follow for follow method still works on TikTok and could be a way to increase the number of followers on a profile.
Still, there are both pros and cons of using this method, especially for new accounts which can easily get flagged by the TikTok algorithm. The same could happen once you continue to disobey the established limits of daily and hourly limits for following.
For safety reasons we have suggested that you not follow or unfollow more than 150 TikTok accounts a day and 20 accounts an hour with reasonable intervals between following sessions.
📌 Read the post on how the TikTok algorithm works if you are interested in learning more about how TikTok ranks videos and the multiple factors influencing profile growth.