Pinterest Hashtags sind ein Thema, das das Internet mittlerweile in zwei Teile teilt. Eine Seite ist stark für die Verwendung von Hashtags auf Pinterest, während die andere stark auf der anderen Seite ist.
Pinterest ist vielleicht nicht die beliebteste Social-Media-Plattform, aber es ist eine solche Plattform, die ein ziemlich großes Potenzial hat, Ihr Geschäft wie keine andere in die Höhe zu treiben.
Gemäß 99firms.com Pinterest-Antriebe 33% mehr Verkehr auf Einkaufsseiten als jede andere Social-Media-Plattform.
You might not get a lot of likes or comments, but the potential to drive your traffic from the social media platform is huge and very crucial to understand if you are one of those businesses looking to increase your traffic.
Therefore, understanding how do hashtags work on Pinterest or just Pinterest as a platform is important.
You should get your Pins sticking already now and remember success on one platform will help you achieve it on another.
In this post, we will discover how to use hashtags on Pinterest, and a hashtag strategy on Pinterest.
Also, we will discuss the keywords on Pinterest while comparing hashtags versus keywords.
Finally, surmise if they are still important.
You'll learn if Pinterest hashtags still work. Plus, a bit about the keywords on the platform, and a strategy to use hashtags for Pinterest
How to Use Hashtags on Pinterest?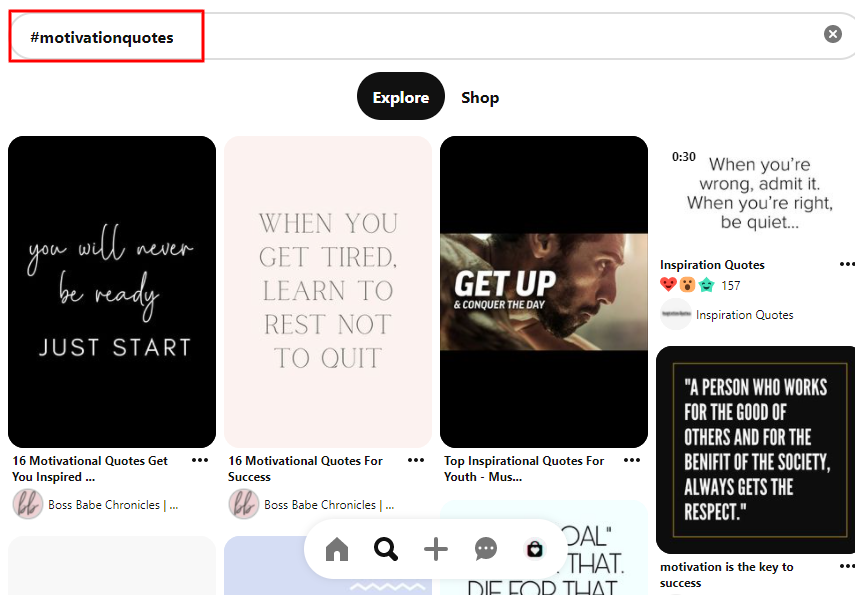 Using hashtags for Pinterest is just like it is on any other platform. You need to put the hashtag into the search bar then enter your term.
Pinterest will display you all the Pins which have that exact hashtag. And unlike other platforms, Pinterest shows recent ones at the top.
So understanding the timing is crucial.
To understand the timing of hashtags you will need to work on it on your own, for the Pinterest Analytics don't have that wide range of functionalities yet.
But it is simple to understand.
For example, if your post went online, when you have no views or engagement, then, that very time is not a good time to post.
However if there is some reaction and traction on those Pins. Then that is the good timing you are looking for.
Aslo, using hashtags on descriptions. Although they used to be clickable before which is not the case now. They still impact overall clarity of the post and help with discoverability.
With that being said, you might be wondering what strategy to use or how many hashtags to include. That is next on our topic of Pinterest hashtags.
Hashtag Strategy on Pinterest
If you ever said to yourself should I use hashtags on pinterest?
The answer is a hard yes, but now it is mixed.
When it comes to using hashtags on Pinterest, the strategy you will implement is quite similar to the one you would be using on Instagram.
Yet, regardless of their similarities, the outcome you wish to achieve is different.
Because on Instagram you have higher engagement, while on Pinterest you may not have engagement on the posts per say, but as the article shows that the clickability is higher.
Thus, focusing on using the hashtags that gets you more clicks is the strategy that will be perfect for this platform.
How do you achieve that?
The simplest way is to include pinterest hashtags that describe your post as clearly as possible. However, concentrating on just the niche hashtags is not enough.
You also need to focus on exposure which you can get by including a couple of broad hashtags for Pinterest that describe a general topic or the niche you are in.
Use 2-3 broad hashtags. They can be evergreen or relevant.
What evergreen means is the pinterest hashtags that are meant for long-term.
For example, #nikeairmax this hashtag will help the platform know that the post is about Nike AirMax although there are many types and different issues every season or so.
Your post is broad enough to let the platform know that it is in general about Nike-ys.
The relevant hashtags for Pinterest are the ones that represent a certain time of year or period or perhaps something that is relevant to that product.
For example, #nikeairdior. Because it is an issue that was facicilited with the help of the Dior and something is relevant to that issue only. Using just a couple of these is also a good idea.
Keywords on Pinterest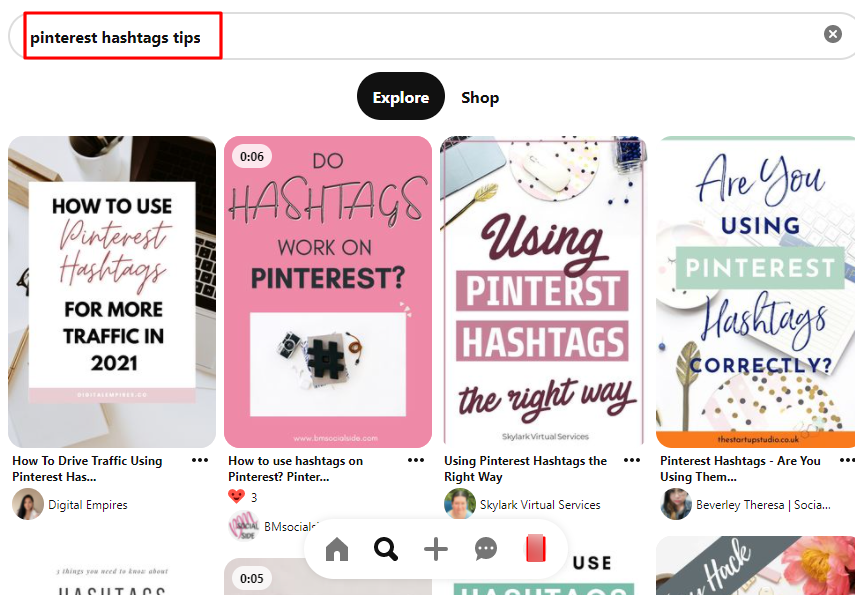 Keywords on Pinterest are a huge topic compared to Pinterest hashtags. So, if you want a different article let us know, we will come up with a more detailed and thorough piece on this topic.
But so far, in this piece, I will just write about the must-dos, and must-know keywords on this topic so that you could learn and start using them already today.
The general idea is to use keywords wherever you can. However do not go overboard with this and use tons of keywords every chance you get.
What that simply means is to use your primary keyword and secondary. They should be short yet descriptive to give the user an exact idea of what your Pin is about.
To understand this point you need to do keyword research which is also another topic for another time. But generally knowing who your Pin is meant for is enough.
That leaves you with an idea of whom you are targeting. When you know this, including the keywords in a full written sentence form is the best way. Meaning if your keyword is per se "Pinterest hashtags".
And the secondary one is hashtag Pinterest. Don't just spam it like Pinterest hashtags, hashtags on Pinterest, hashtags for Pinterest, and so on.
Instead, use it as a sentence, for example, "how to add tags on Pinterest'. 'how to add tags to Pinterest Pins' and so on.
As the search algorithms are getting smarter, they are learning to distinguish the quality content from non-qualitative one.
Pinterest Hashtags vs Keywords
The evolution of hashtags on Pinterest came a long way, with many differences and the applications that kept changing time and time again.

Today the importance of hashtags for Pinterest decreased drastically.
However, they still are important and should be used in their own places of relevance, such as the description, titles or even in the comments..
However, with the decrease of hashtags on Pinterest came the rise of keywords on the platform.
It is too early though to conclude which bears the most fruit, it still is important to discern the significance of both in regards to Pins discoverability and exposure.
Upon usage of either, all you need to do is make sure to utilize it in the most effective way without overusing but giving your Pins as many chances as possible for exposure.
Keywords can, and should be used wherever your pinterest hashtags go. For example, if you are posting a new Pin, with a title of, say, something related to carrot cake.
Including one or two pinterest hashtags regarding that product will give your Pin that many chances as we talked about.
Remember though keywords should be used wherever there is a possibility to include some text. Although there are not many characters in the Pin description to rumble on (only 400 characters/Pin) chances should be taken.
Even the alt texts on your posts should have your keywords or at least one of them.
Are Hashtags Still Important? 
Now this is probably the one question that many people are wondering about. Because hashtags on Pinterest have been important then have become unimportant, then again important , till they lose importance once again.
So, the confusion is justified. Yet, the understanding of the truth is necessary.
And the truth is they are not that important anymore.
Many accounts kept using them even when they became unclickable, while some stopped totally. The effectiveness of the pinterest hashtags dropped by quite a bit.
However, using it in the right places with the correct strategy has more positive effects many people give credit to.
An important fact to keep in mind is that many social media platforms are now becoming search engines at the same time as well. Pinterest is also following that route.
Thus, it is also as much of a search engine as Google, or any other. This means your keywords are more important than the pinterest hashtags you use.
That doesn't however mean you should drop hashtags for keywords, on the other hand, use both at the same time while a bit more of focus on the keywords.
Einwickeln
Although hashtags on Pinterest are becoming less and less significant as time goes, their use still helps the Pins to be better discovered and tell the algorithm what those posts are about in a more clear way.
That is why overusing them is abysmally punishable by the platform now. Yet, using them the right way is the opposite.
You should not also forget about the keywords and their importance thereof. And include them as much as, on an equal footing with the Pinterest hashtags.
Remember to use relevant and evergreen hashtags throughout Pin titles and descriptions, and pay attention to the timing of your Pins as they are crucial to catch the viewer at the right time.
📌 Especially, check out the posts on Pinterest we have for you, or read this Moneymaking Guide to Pinterest to learn the 4 ways to make money on the platform.